The Smok RPM 100W Pod Vape Kit
The Smok RPM 100W pod vape kit is a versatile device that is suitable for vapers of all levels of experience. This device is powered by either an 18650 or 21700 battery and can be customized to fit your preferences with a 5 - 100W output range. Included in the kit are two 2ml RPM 100 pod pods along with two coils that can be used with either type of battery. The kit will also support RPM2 coils for even more inhale options.
Features:
DTL Pod Kit
5 - 100W Output Range
Requires 18650 or 21700 Battery
USB-C Fast Charging
Variable Wattage
2ml Refillable Pods
Adjustable Airflow
Supports MTL & DTL Vaping
The device features a large firing button at the top that can be used to switch on the kit and to take a draw. Variable Wattage mode lets you set the wattage, giving you control over how much vapor your device produces. The kit comes with two coils; the 0.15 Ohm coil creates a little more vapor than the 0.23 Ohm version, but both will deliver a DTL style inhale with large clouds of vapor. The device also features a 0.96" TFT screen that displays relevant information and an adjustment button to easily navigate the menu.
The top-filling pod is easy to refill, as you don't have to remove it from your kit. Each pod also features a child-lock system that keeps the coil in place, which helps to prevent spills and accidents. We'd recommend pairing either of them with a 70% VG e-liquid or a higher VG option for best results. The RPM 100 pods also feature an adjustable airflow, so you have the choice of a tighter or looser draw and can see what suits you best.
Contains:
Smok RPM 100W Device
Smok RPM 100 Pod
0.15 Ohm Smok RPM 3 Coil
0.23 Ohm Smok RPM 3 Coil
USB-C Charging Cable
User Manual
Note: It is important to exercise caution when handling any vaping device. Always read the user manual carefully and follow all safety instructions to ensure safe and enjoyable vaping.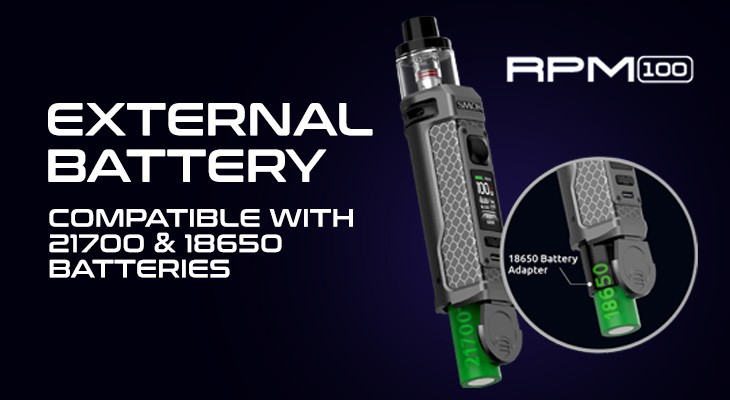 The Smok RPM 100 vape kit is compatible with both 21700 and 18650 batteries (sold separately), which can deliver a powerful vape.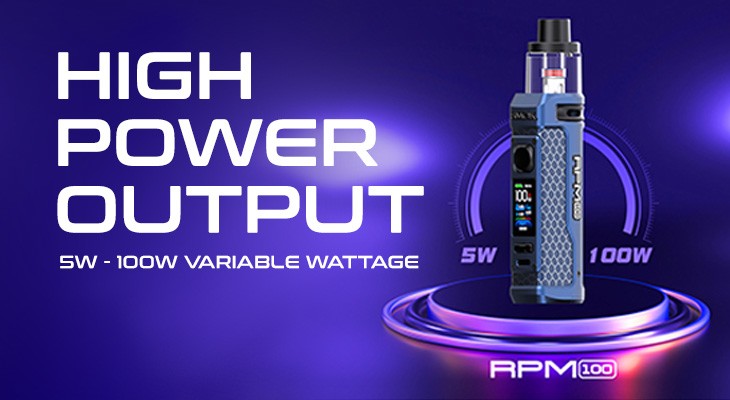 The Smok RPM 100 vape kit boasts a high power output and a variable wattage between 5 - 100W.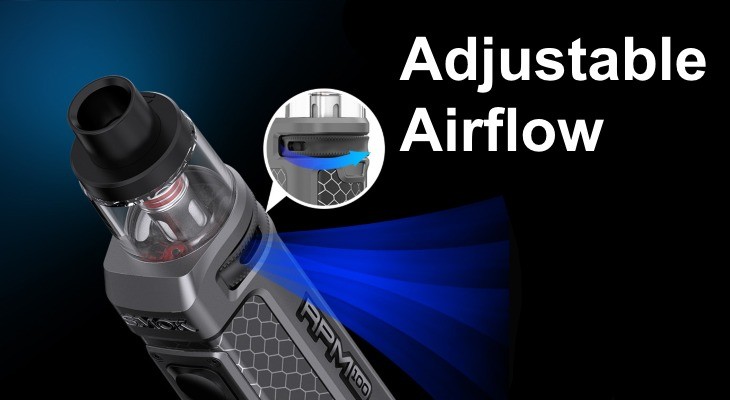 Thanks to the adjustable airflow of the Smok RPM 100 vape kit, you can switch seamlessly between a tighter and looser draw.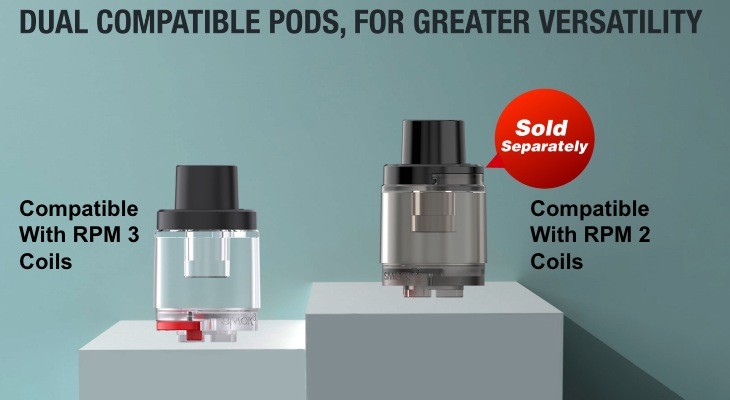 Smok RPM 100W is cross-compatible with the Smok RPM 3 and Smok RPM 2 pods.